THE BIGGER PICTURE
World renowned photographer, Keith Ladzinski on the power of taking pictures, making sustainable choices and the new TERREX Free Hiker Parley.
Whether he is hiking up a mountain to photograph rock climbers in South Africa, snapping endangered gentoo penguins in Antarctica or scoping the best spots to shoot skateboarders in a city, Keith Ladzinski knows first-hand how it feels to be awestruck and mentally enlivened by the power of nature and being outside.
A hugely talented and world-renowned photographer, who regularly gigs for National Geographic and spends much of his working week outdoors, Keith is big on championing the benefits of hiking and spending time in nature for body and mind. "It's primordial," he says. "As civilisation has evolved we've spent more and more time inside; we live in a society where distraction is all around us, from the smartphone in your pocket to constant noise and traffic in the city. It's important to turn that off from time to time and let the outside in."
Caption of Keith Ladzinski
STORIES WITHOUT CAPTIONS

On assignment, Keith hikes a lot to get to remote locations, far from the trappings of human settlements and civilisation. "Hiking is great exercise for my muscles and my creativity." he says. "But also, if I climb to the top of a mountain to get a good photo I've earnt that shot; there was toil involved, which I like." Yet even at home in Boulder, Colorado, he makes time to get outdoors. "It's important to me. I ride my bike, go for hikes, and take the dog out. I do a lot of recreational photography, as that's my passport to go outside and experience fresh air."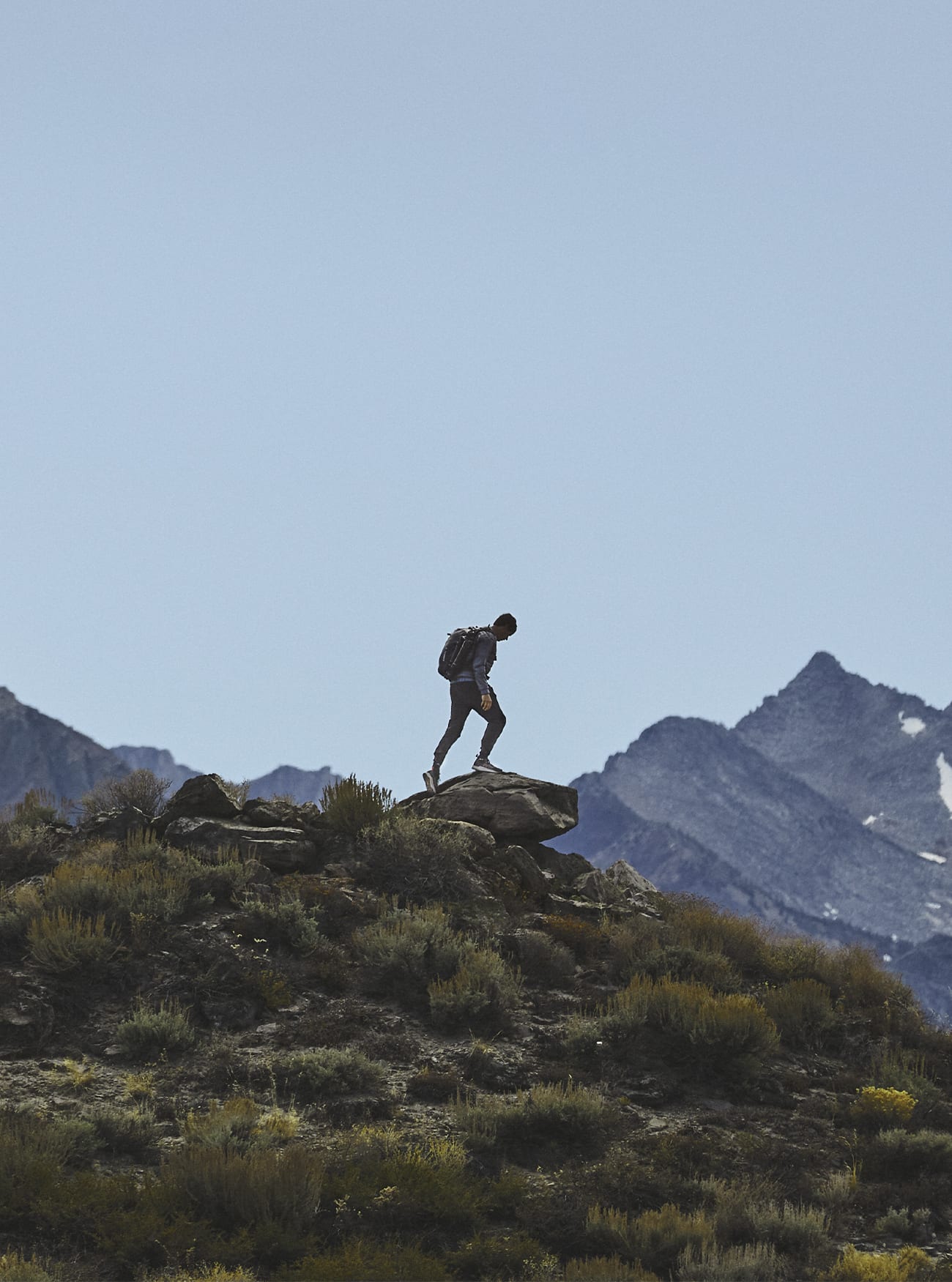 But his biggest wish is for his photographs to affect people; to drive them to make real change in their lives, and get out of their comfort zone. "It's high praise when you hear a picture you shot inspired somebody to go and see a place or simply be outside more. Or to be motivated about a certain cause. Photography has the power to do that because it can tell stories without captions, it can take you to a place you've never been and show you what's happening there." Keith's been lucky enough to witness some of the most incredible wildlife and places on the planet, and a quick scroll through his social feed shows his photos clearly move a lot of people. "I feel like I hit the lottery in life, to find passion in my hobby and somehow make it a profession," says Keith. "Photography is almost therapy for me as I get to shut down and find a quiet space in it."
When I think of the outdoors I think of freedom, a place with no boundaries. It's where I go to clear my head and find creativity.
The fragility of the environment is a key and constant theme in Keith's work. From the climate crisis to the havoc wreaked by overfishing and plastic pollution, he says: "If there is an ecosystem in peril, or I see the harm that single-use plastics are doing… I'm really passionate about wanting to distribute that information to people, I want people to realise they can make reasonable changes in their lives, which will have a massive impact on the planet. My biggest piece of advice? Avoid single use plastics at all costs. I would say that five times in a row."
He believes photography has a massive role to play in protecting the planet and cultivating awareness. "Think how many pieces of history you remember because of an iconic image. Sometimes the most difficult things to look at are the ones that change our minds the quickest. They send shockwaves through people."
"We look at more photographs than ever as we all have a camera in our pocket. We kill time scrolling through feeds, and we're getting a much broader awareness of things. Photography has the power to stop you in your tracks, to make you think and reconsider."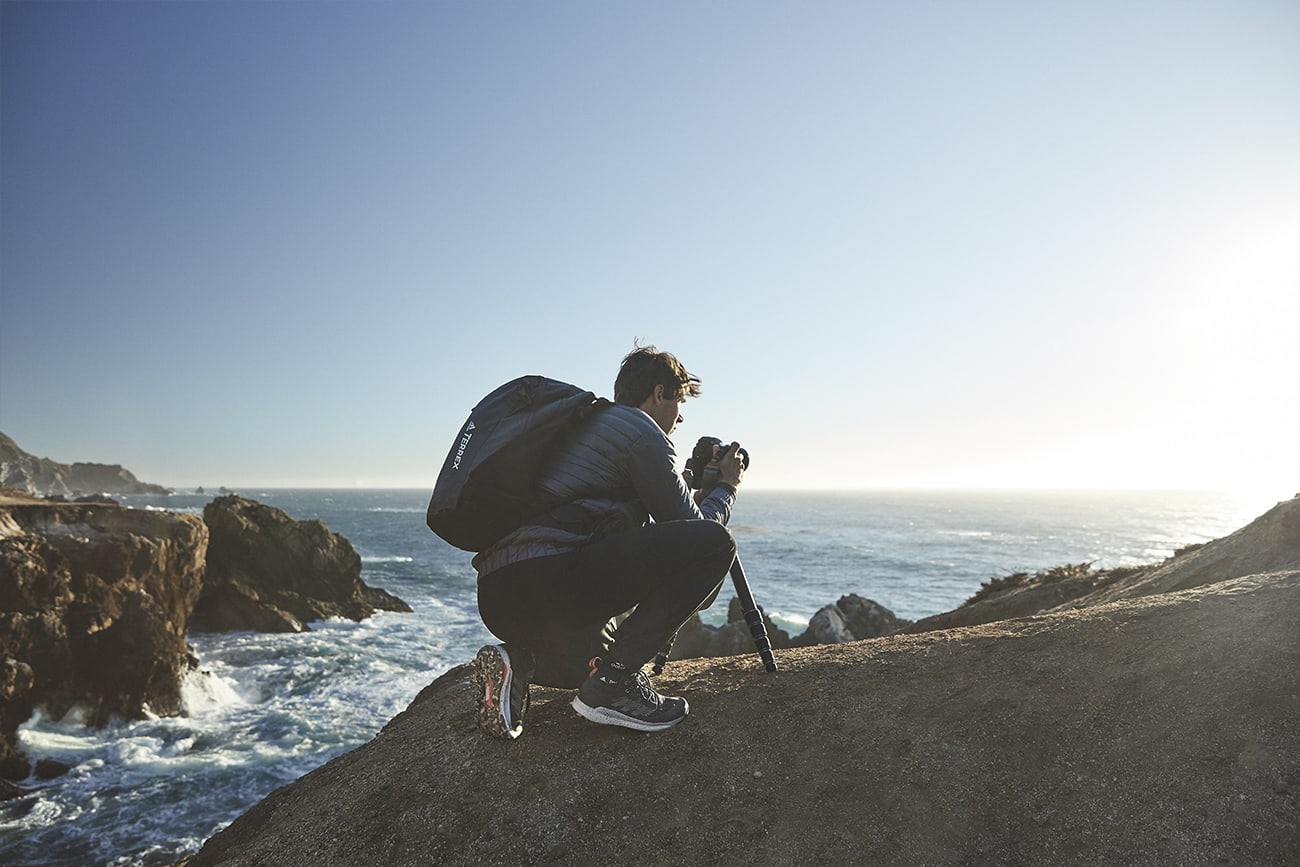 Caption of Keith Ladzinski
My biggest piece of advice? Avoid single use plastics at all costs.
Does Keith find it hard to stay hopeful when he witnesses the damage humans are doing to the world? "I've seen remote places where the pollution is shocking and it can eat away at you, but I feel optimistic things are moving in the right direction. There are some really strong voices out there right now, and I want to do whatever I can to be part of that message. It's a responsibility. Increased awareness about sustainability is such a positive thing and really the only way you're going to move the needle forward."
With that in mind Keith supports the work done by adidas TERREX to use recycled materials in the product design of the new Free Hiker Parley. "The Parley brand is a very forward-thinking idea; I was excited when I first heard about it. On my travels I see ocean plastic washed up on beaches and shorelines all the time, so being able to repurpose things is seriously important. We have almost eight billion people on the planet, we generate so much waste and that's a serious carbon footprint. We have a massive uphill battle, so anything we can do to reintegrate pre-existing materials into useful things is really important. It will only get more necessary moving forwards."
OUTDOORS IN THE CITY
The more time we spend in nature, the more we benefit and the more we want to protect it. But Keith doesn't believe you need to live somewhere remote to reap the rewards of being outside, you just need to tweak your mindset a little. He says: "When people think of being outdoors, they imagine you need to be out in the wilderness, but you can also have adventures if you live in a city by getting into the parks and open spaces. I would encourage people to seek that, as it taps into a part of the brain that is very clearing. Go for a hike, go for a run, and then, if and when you get the chance, utilise your weekends or holiday time to get a bigger dose of nature."
Stay Updated
Be the first to know all about stories, launches and events.