Get ready for winter: Why cold conditions shouldn't stop the ride
There is no bad weather. Learn what to wear to stay warm on your bike this winter with our essential guide
When winter looms, it's tempting to put the bike in storage. After all, how fun is it to ride when you're cold and wet with an icy wind whipping about your torso?

But cycling through winter is a whole lot of fun. It keeps you exercising outdoors, which is great for physical and mental health, and gets you out into nature, experiencing the seasons in all their fleeting glory. Not convinced? Cold weather cycling will also really make you appreciate your sofa when you get home.
Layer up with the new Cold.RDY Collection
The new Cold.RDY Collection from adidas Cycling means hibernating no longer needs to be a thing. Whether you're commuting, exercising or simply riding for the good times, Cold.RDY will block out windchill, and keep you feeling warm, dry and happy on your bike whatever the winter weather throws at you.

Layering is key. This isn't just about wearing great products in isolation.
Instead, layer up with thin, body-hugging garments. This is the best way to maintain a comfortable temperature on your bike, allowing you to add or discard layers when you need.

Pro tip: it's a good idea to take off a layer before a big hill as opposed to at the top when you're already feeling the heat.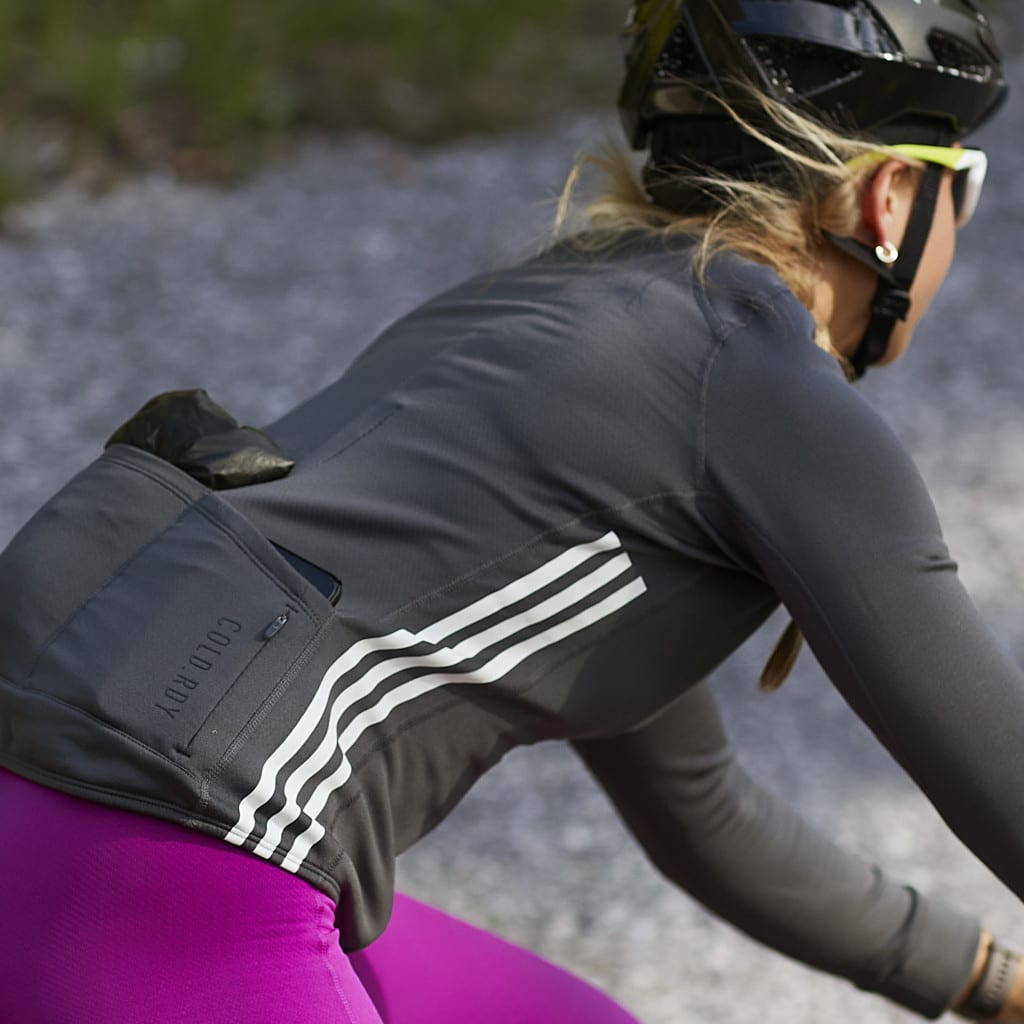 Five essential layers from the Cold.RDY Collection
1) The Short Sleeve Baselayer.Always start with a Short Sleeve Baselayer, designed for optimised sweat distribution, adidas Cold.RDY products keep you feeling dry in cold conditions.

2) Cold.RDY Jersey. On top of that, wear the Cold.RDY Jersey, which keeps cold air out, and comes with a lock-down zipper, so one tug equals immediate ventilation. Picturing those big hills again…

3) Cycling Bib. Combine this Baselayer/Jersey combo with the Cycling Bib, made from insulating fabric, which is wind-resistant and water-repellent. The bib has gender-specific padding on the women's and men's lines to ensure tailored comfort on long rides.

4) Sleeveless Jacket or Wind Jacket. For extra warmth, add the Sleeveless Jacket or Wind Jacket. The Wind Jacket is lightweight and easily packable, so always worth taking along in case the weather changes quickly.

5) Cold.RDY Trackstand Jacket. When the temperature really nosedives, top your outfit off with the Cold.RDY Trackstand Jacket. It's waterproof, keeps out windchill, and gives you an instant feeling of warmth. Its large baffle-like pockets lock the heat in, and are good for storing snacks and other layers, like your Wind Jacket, in.
Your favourite road or street cycling looks, now winterised
Just because you're riding through a rainstorm doesn't mean your whole look needs to go out the window. adidas Cycling have winterised the road, gravel and streetwear pieces that cyclists know and love with Cold.RDY technology, while maintaining the collection's original style and aesthetic.

For commuting or riding around the city, you might not want the full layered setup mentioned above, instead opting for individual items such as the Cold.RDY Trackstand Jacket or Jersey. Both are versatile and comfortable enough to fit seamlessly into your everyday, keeping you feeling warm and dry throughout winter.

The Cold.RDY products are made with a series of recycled materials — just one solution that will help us phase out all virgin polyester and help end plastic waste.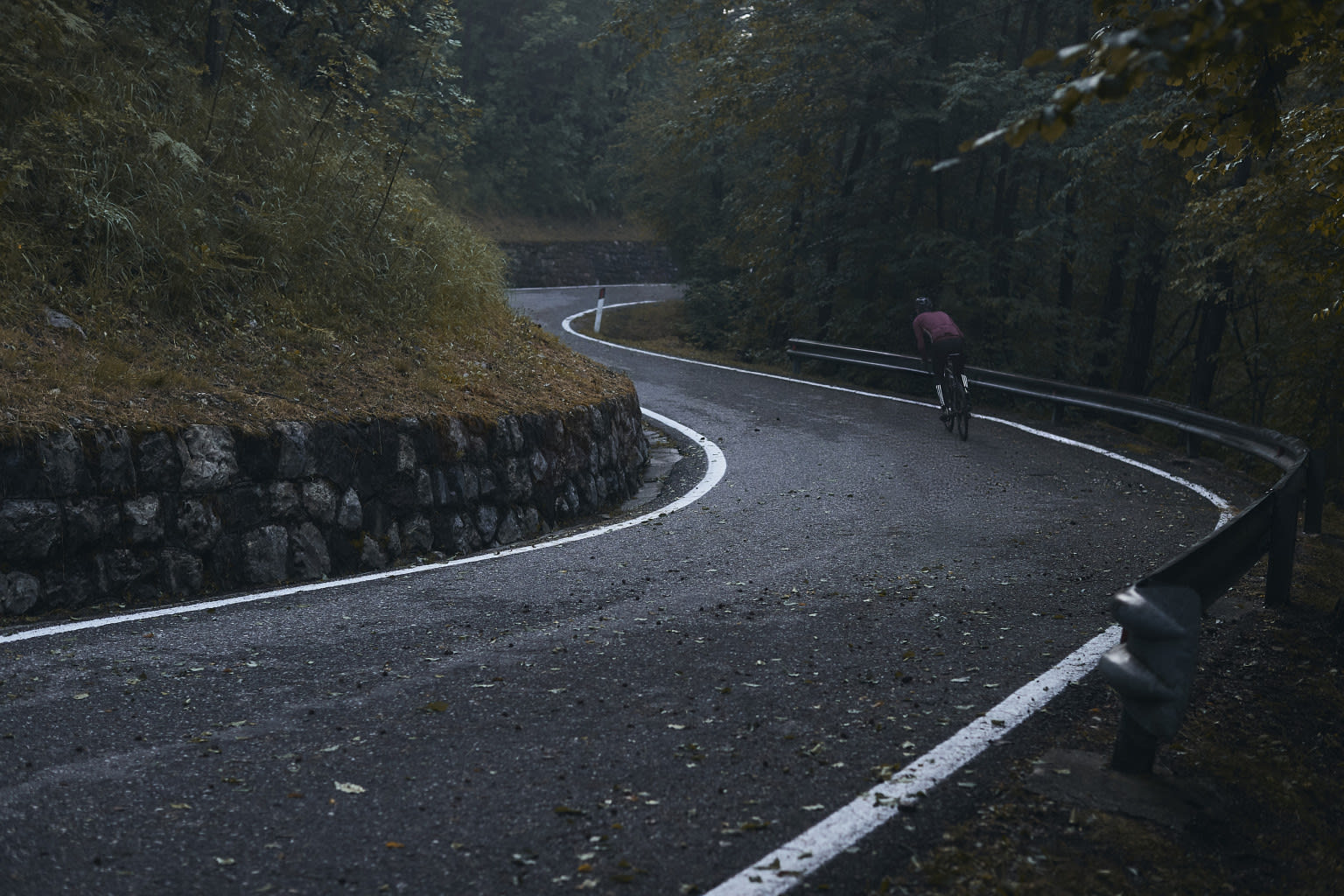 The best cycling shoes for winter riding
It doesn't matter how snug your body feels, if your feet are cold and wet you'll have a rubbish day on the bike. Both the Gravel Shoe and Velosamba are field-tested winter options. They're robust, comfortable and made for all weather conditions, plus SPD compatible to ensure efficient riding. Getting you back to your sofa and that much-deserved mug of steaming hot chocolate as swiftly as possible.

What are you waiting for? It's time to zip up and ride this winter, nothing will make you feel more alive.

Layer up, clip in, and go ride.
Stay Updated
Be the first to know all about stories, launches and events.